100%
of life-course stages
what data is being used in longitools?
LongITools has access to a very large resource of life-course data including prospective birth cohort studies and longitudinal studies in adults, register-based cohorts, randomised controlled trials, patient databases and maternity and hospital biobanks. These LongITools data sets include data variables on over 11 million European and UK citizens, from 24 different studies. The data variables are wide ranging and include, for example, height, weight, blood composition, employment, lifestyle factors, cholesterol and many more. Where possible, researchers have harmonised the variables in their data sets to an agreed LongITools definition (harmonised model or common data model).
Our team will use the data to try and identify the underlying molecular mechanisms that lead to cardiometabolic diseases, and factors that can modify or meditate these mechanisms to help prevent disease.
Below is a summary of the cohort studies, being used in the research, mapped across the life-course. More details on all of the data sets being used in the project can be found at the bottom of this page and in the project's profile paper: Dynamic longitudinal exposome trajectories in cardiovascular and metabolic noncommunicable disease.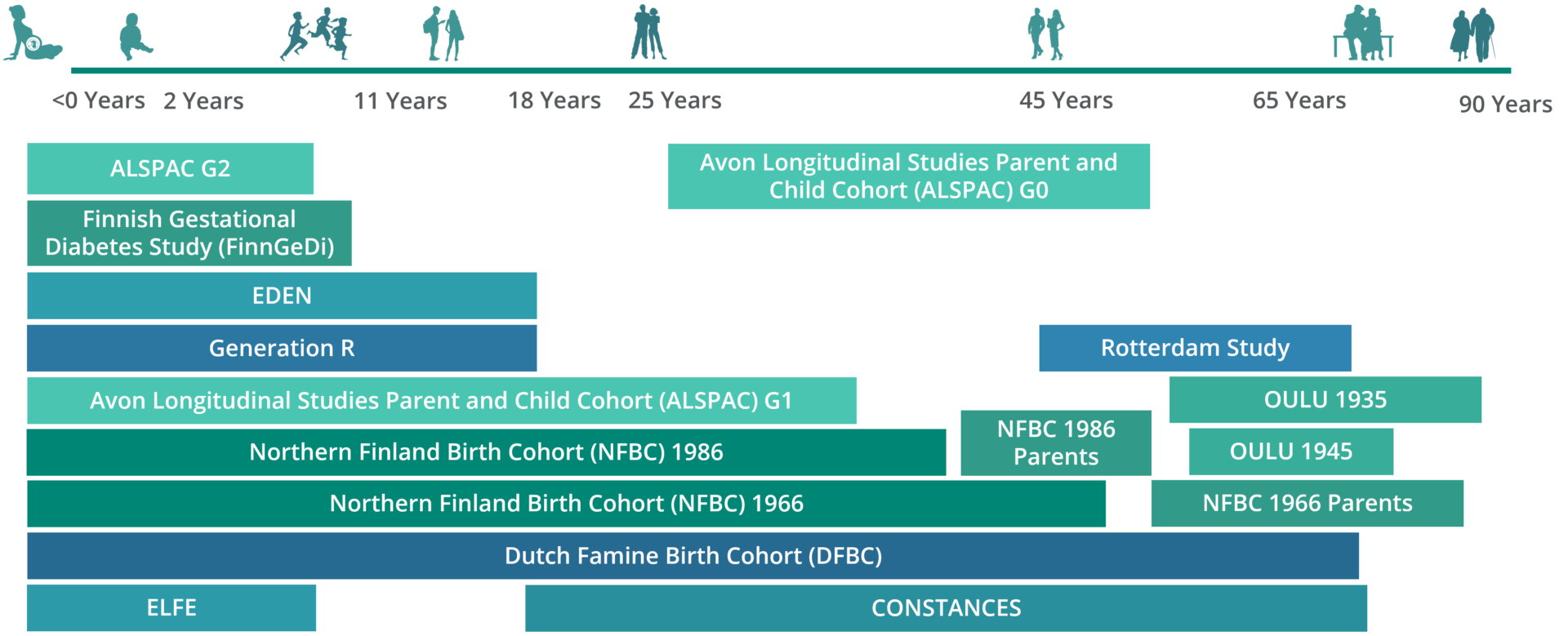 | Cohort Name | Country | Link to Cohort Website |
| --- | --- | --- |
| | | |
| Avon Longitudinal Study of Parents and Children Generation 0, 1 and 2 (ALSPAC) | UK | |
| Cohorte des Consultants des Centres d'Examens de Santé (CONSTANCES) | France | |
| Dutch Famine Birth Cohort (DFBC) | Netherlands | |
| EDEN | France | |
| French Longitudinal Study of Children (ELFE) | France | |
| ELIPA | Finland | N/A |
| Fibrefects (FEF) | Finland | N/A |
| Finnish Gestational Diabetes Study (FinnGeDi) | Finland | N/A |
| Finnish Maternity Cohort (FMC) | Finland | |
| Finnish Register Sample (FR) | Finland | N/A |
| Generation R | Netherlands | |
| Northern Finland Birth Cohort 1966 (NFBC1966) and 1986 (NFBC1986) and Parents | Finland | |
| NOMA | Norway | N/A |
| | | |
| Born in Oulu in 1935 (OULU 1935) and in 1945 (OULU 1945) | Finland | |
| Physical Activity and Nutrition in Children (PANIC) | Finland | |
| Rotterdam Study (RS) | Netherlands | |
| SYSDIMET | Finland | N/A |
| UK Biobank | UK | |